Cable operators seeking 10G business services using PON are often faced with concerns over fiber plant exhaustion, back-office integration, optical service reach, and service assurance in production. However, commercial services offering advanced dedicated access for a variety of use cases, such as 10G bandwidth, low latency, Point-to-Point Ethernet Private Line, Cloud Connectivity, Video, IoT, and Content Network services are in demand, offer high margin, and provide low churn compared to residential access.
10G EPON access technology is used to deliver all these high-bandwidth and low-latency services to business customers with a wide range of customer premises equipment (CPE) device options. When combined with Metro Ethernet Forum (MEF) service specifications, 10G EPON can offer robust and flexible connectivity for all business services.
Making 10G business fiber services easy rests on the combination of existing back office, new service orchestration, and flexible Remote Optical Line Terminal (OLT) platforms managed with an integrated software-defined controller.
Making 10G PON business fiber service easy comes down to four key things:
Effective use of fiber assets
Automating network infrastructure and assurance
Leveraging existing device provisioning
Unified service orchestration
Vecima Networks offers Multiple Systems Operators (MSOs) both a Remote OLT platform with the Entra® SF-4X 4-port 10G EPON Remote OLT and 16-port Remote OLT shelf platform with the Entra® EXS1610 All-PON™ Shelf.
The solution to our first challenge exists in the outside plant (OSP) fiber design. Aggregating Remote OLT services using long-reach optics on DWDM and CWDM wavelengths makes effective use of existing fiber assets that terminate at pedestal and strand locations. Placing Remote OLTs into the outside plant (OSP) at these pedestal and strand locations further improves OSP utilization on the access side fiber distribution presented to the subscriber.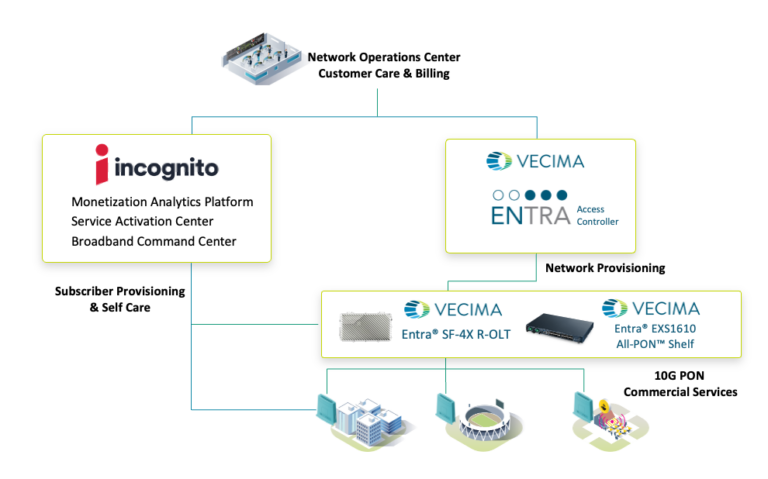 With long-range optics, Remote OLT PON access reach increases from 20km to over 100km and may be terminated by the same leaf and spine network supporting Distributed Access Architecture (DAA) nodes from a Hub.
Network infrastructure can be complicated to deploy, for this reason, Vecima offers the Entra® Access Controller (EAC), an SDN Controller to fully manage and zero-touch provision the 10G EPON network infrastructure using SF-4X and EXS1610 OLT systems.
The EAC enables the MSO to continue using the CableLabs-defined subscriber management back office, preserving OSSI interfaces NOC management, service assurance, and bandwidth accounting platforms rely on today.
10G EPON combined with Entra Access Controller answers for critical automation and network assurance needs. Further, the Vecima 10G EPON solution preserves existing subscriber device provisioning back-office systems using DOCSIS Provisioning of Ethernet PON (DPoE), which brings us to our next key item.
All MSOs today have some form of DOCSIS device provisioning back-office solution. Instrumental to the success of highly efficient 10G PON services is the reuse of DOCSIS device standards given existing integration, training, and efficiencies afforded to a DOCSIS-based provisioning model.
Incognito Broadband Command Center (BCC), deployed worldwide in Tier 1 MSO back offices, enables all DOCSIS device provisioning for 10G business services over EPON. BCC, with its dynamic provisioning service templates, enable operators to provision any number of regional, service group, or subscriber-specific device configuration at scale.
To maximize the revenue potential and adoption of multiple use cases in 10G business services, orchestration between device provisioning, network infrastructure, and revenue management platforms is key. Incognito Service Activation Center (SAC) unites the device and network provisioning systems enabling the operator new methods of resource management, QoE management, and subscriber analytics across multiple use cases the MSO deploys as both orchestrated and automated at scale.
Any service in 10G EPON must define its service flows in both directions. Ultimately, this information is passed into the OLT and ONU device layers as DOCSIS Type Length Values (TLVs). Orchestration of Virtual LAN (VLAN) resources, IP address resources, and Layer 2 Virtual Private Network (L2VPN) identifiers per service are the key building blocks to effective 10G EPON service creation at scale while reusing DOCSIS provisioning which is all made possible by Incognito Fiber Service Orchestration.
Entra Access Controller ensures both DOCSIS L2VPN VLAN service attachment and Metro Ethernet Forum (MEF) service provisioning model which includes classification criteria and bandwidth allocation function as a DPoE-driven service.
Incognito Fiber Service Orchestration (SAC with BCC) are the key building blocks for operational efficiency in business service creation and resource management delivering unified service orchestration.
Join Vecima Networks and Incognito Software Systems at SCTE Cable-Tec Expo 2023 to discuss how easy 10G PON service for business can be when deploying Incognito Fiber Service Orchestration with Vecima's 10G EPON. Request your meeting today!