Co-written by Sonya Goodanetz
Welcome to the second installment of our TM Forum Catalyst series. Today we'll cover how to curate B2B2X services, building on our blog #1 covering 5G, electric vehicle charging, and operator connectivity needs to ensure ICT services.
Many new business opportunities are available today due to the radical innovation and advances in communications technology (i.e. massive bandwidth availability, 5G, virtualization, cloud, edge computing, IoT/M2M communications, ultra-reliability, low latency, and so on). These opportunities, in turn, have driven the need for business partnerships across many industries. Of these partnerships, communications service providers (CSP) have a key role to play providing the underlying end-to-end automated solutions to ensure connectivity to the Internet to support B2B2X (business-to-business-to-any) service delivery beyond telecom verticals into other industries and climbing further up the value chain and increasing revenues. With B2B2X expected to reach USD 276B in size – or 8% of global ICT spending – by 2020, it is set to be one of the fastest-growth fields for telcos to focus on.
Now B2B2X is quite the tongue-twister! But what it really means is B2B to any end-user. Those end-users are generally enterprises and could span any industry, from healthcare, utilities and energy, hospitality, media and communications, and finance, who in turn provide those services to other businesses or consumers. For example, looking back to blog #1 where we first covered our 2020 5G TM Forum catalyst, the B2B2X use case shown was in relation to an electric-vehicle charging ecosystem. Leading operators (i.e. Orange) partner with automotive manufacturers (OEMs) for connected cars (i.e. Toyota) and other service providers (i.e. Hertz) to build a vertical-specific solution. What telcos bring to the table is their connectivity and platforms, but marry that with IT services to build ICT infrastructure to become enterprise enablers as in the figure below. Evidence of this approach can be seen in the aggressive industry activity including KPN's 7 enterprise ICT acquisitions and Swisscom's majority stakes in two other IT services companies. Similar trends are also seen in Elisa, Orange, Telia, and Telstra.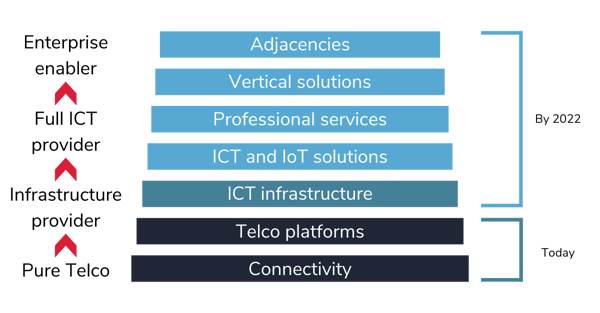 Let's take a look at other B2B2X services industry examples, which include notable global operators and span many different use cases:
Delivering B2B2X services is so much more than building a converged platform for B2C+B2B services – it requires different IT resources and processes, as observed by the high number of telco acquisitions of IT and cloud service providers over the past three years. But even with all this new technology at our disposal, core digital B/OSS best practices still hold true to ensure SLA adherence, reduce costs, grow revenues, and improve time-to-market speeds:
A high degree, if not full automation, of end-to-end service fulfillment and diagnostics
Open interfaces and standards-based digital architecture
Seamless access to third-party cloud and IoT applications
A single platform driving operational agility
In conjunction with communication service provider Champions and other participating B/OSS solution vendors, along with using the TM Forum's Open Digital Architecture and Open APIs, Incognito is delivering these B/OSS best practices while solving the challenges presented in the TMF 5G Ride On! Catalyst. Incognito equips telecom operators with the fulfillment and assurance solutions to provide greater benefits to their customers with high-value infrastructures to go above and beyond connectivity-based services.
Learn more about the award winning 5G monetization and networking slicing catalyst project (Outstanding Ecosystem Design), and how we are helping drive innovation and validate TM Forum standards and best practices.