"Challenging, friendly, and flexible" are the three words Benjamin Lee uses to describe working at Incognito in this second entry in our "Employee Spotlight" blog series.
Ben is a senior software developer/engineer who has been with Incognito for nearly seven years, working in the Vancouver, British Columbia, office to develop and support one of our flagship products.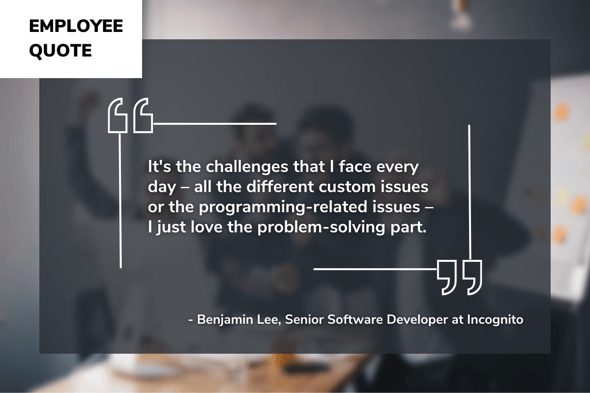 What is Incognito's Vancouver office like?
BL: It's right at the waterfront. We can see the water and the mountains – it's a prime location.
How did you come to be at Incognito?
BL: I learned about the company way back – about twenty-something years ago – because I had a friend that used to work here as a co-op. So, I knew about the company, and I had just moved back to Canada from Hong Kong. When I got here, I saw Incognito hiring for engineers, so I went ahead and applied.
What motivates you about your work at Incognito – what are you excited to be working on?
BL: It's the challenges that I face every day – all the different custom issues or the programming-related issues – I just love the problem-solving part.
[In project work] there are all kinds of different problems like networking issues, and system issues like OS issues or business logic issues, so I get to know all about the system and how it works in different areas.
Having worked at other companies, and in other countries, what do you like about your current work at Incognito?
BL: As I mentioned before, I like the challenging part for sure. And I like that people are very friendly at Incognito. Also, the company has been very flexible in terms of how, where, and when we work. You can always walk out and get a coffee or something – of course, that applied to when we were all still in the office!
Do you have a proudest accomplishment or project?
BL: Every time I solve a problem it's one of those moments, but I particularly remember a time when I needed to develop a mechanism that would help the system roll back changes when a request comes through. This process helps the customer, and it fills a hole in our system, so it actually becomes a strength for the company. So that's kind of big for me.
If someone was considering working at Incognito, what advice would you have for them?
BL: I'll just say it's a challenging, flexible, and fun company to work for. For sure I'd recommend that people come here to work.
Do you have some predictions of what you think is coming in the industry or what direction you think things are going to go?
BL: I think the device management and the IoT stuff that we're working with is huge. There are a lot of opportunities out there for the industry. We [Incognito] do management work – device management for IoT – so we're not limited to just working with broadband companies or Internet companies. [We can work with] things like smart homes, smart cities, and even power plants. I mean nowadays, you want all your devices to connect to somewhere and be managed by something, so that's a huge market. I think as long as there's a common standard of how devices are connected to each other or being managed, it will make the market even bigger and easier to collaborate.
To learn a little more about you, can you tell us the best vacation you've been on?
BL: The one that really stood out was when my wife and I went to this pool villa in Phuket, Thailand – that was awesome. You got your entire place with a small swimming pool within your accommodation. The food was great – it was relaxing to just get up, grab something to eat, then just dive into the pool. It was a great experience.
How do you define success – what would be success for yourself, or your team?
BL: For me, and probably for my team as well, I would say that we always try to set a goal for ourselves. And we all do our best to reach that goal. Sometimes it's hard to control everything. We may not even get to the endpoint of it. But, as long as we did our best, I would say we call ourselves successful for that.
You've been at Incognito for seven years, and you work with many people who have been here longer – why do you think people stay at Incognito?
BL: I think the friendly people here, and the flexibility in the company, surely make people want to stay here longer.
Incognito relies on our strong, motivated, and talented team to achieve our goal of helping fixed service providers manage the next generation broadband experience.
If, like Ben, you think Incognito could be the place for you, please visit our careers page.
We look forward to showcasing more team members in upcoming Employee Spotlight posts.