Working in an interesting domain with a great team to help real users is what Paul Mizgala likes about his work at Incognito.
In this entry in our "Employee Spotlight" blog series, we learn more about Paul, a broadband provisioning software developer who has been with Incognito for over four years, working in the Vancouver, British Columbia office.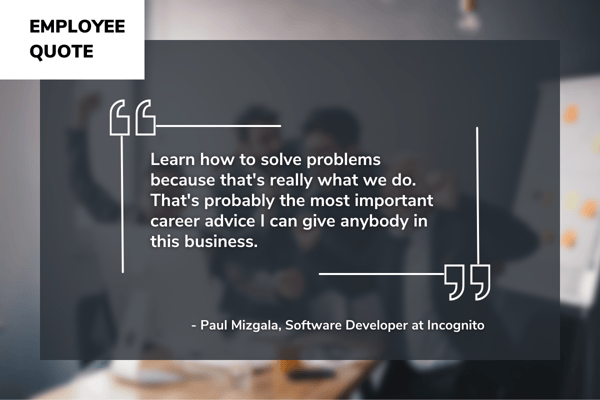 Could you please explain your role at Incognito?
PM: I'm a software developer on the broadband provisioning team. Currently, I implement front-end designs, and I work with another team member doing that. We also often have a co-op student with us, and we've been doing that for a couple of years now.
How does the co-op program work?
PM: I usually interview the co-op students for our team. We generally have two co-op students at any given time.
They start by working with the QA (quality assurance) people – we have a couple of QA senior people on the team – and the co-op student will work with them and learn our system a little bit via manual testing. They'll test the product, make sure there are no bugs, or maybe confirm that various bugs are fixed – we'll hold their hand a bit – and as time goes on, they get more and more responsibility.
After getting some experience doing manual testing, which helps them learn the system, they'll move on and start doing some automated testing. That usually covers the first term, or maybe the first two terms. The other thing that often happens with co-op students, although not always, is in the second term, they'll often come up and work on my team on the front end, so they'll start doing a bit of development. So basically, the path here is getting to know the system a little bit, helping with the testing, then doing some implementation in the last term.
Where do the students come from?
PM: They're usually computer science students, often from SFU (Simon Fraser University) and UBC (University of British Columbia).
How did you learn about Incognito, and how did you come to work at Incognito?
PM: I've been here about four years now. I joined in early 2018. I worked at a small company before this, and the company went under just before Christmas time. I thought I'm going to take a big, long Christmas vacation, and then one day I'll start looking. I interviewed with a few different people, and Incognito was interesting to me, and it just worked out.
Why do you think people tend to stick around and work at Incognito?
PM: There are probably a few reasons for it. One is that Incognito has been very stable, so people are able to stay here. The other is I think there's always been a bit of a family feeling here, and I think that might be a big part of it as well. I really like the people I work with, and that plays a big part in it for me.
What motivates you to do the work you do?
PM: I like building things. I get satisfaction out of building and making things work.
Is there something you've done since you've been at Incognito that was particularly satisfying?
PM: I'm sort of the senior guy on the broadband provisioning front end. I've made sure that the way we approach things works, and I enjoy finding solutions to problems. The product has to do certain things, and I have to find a way to make that work – that's really the bottom line.
What advice would you give to a new hire?
PM: Learn how to solve problems because that's really what we do. That's probably the most important career advice I can give anybody in this business.
If I had to ask you three words you would use to describe Incognito, what would those be?
PM: I don't know so much three words, but I can say, interesting domain. That's two words. A lot of times in this business, people end up just building catalogs and that kind of thing, which is not that exciting. So, interesting domain, great team – another two words – and we have real users. Those are three things. A lot of times you end up working for a company and you're building a product that nobody ends up using.
Are there any places you've traveled – for work or vacation – that stand out for you?
PM: My wife and I actually do quite a few day trips; we go to various places, and that's kind of nice. You can go to the top of Grouse Mountain for a day. That's a lot of fun. There are all kinds of trails all over the place, including many interesting ones on the North Shore. I've also gone to the Tulip Festival in Chilliwack – you can get interesting pictures there. I've been to Harrison Hot Springs and Kelowna for a weekend. And there are some winemakers that are reasonably close, and you can go do a wine tasting. That's a lot of fun, things like that.
Is there a particular way that you define success for you or your team?
PM: I don't know how measurable it is, but for me, it's just putting out a great product.
Incognito relies on our strong, motivated, and talented team to achieve our goal of helping fixed service providers manage the next-generation broadband experience.
If, like Paul, you think the friendly atmosphere, stability, and chance to work on products for real users could make Incognito the place for you, please visit our careers page.
We look forward to showcasing more team members in upcoming Employee Spotlight posts.