With a growing demand for always available, high-quality connectivity and faster data speeds, digital service providers are faced with a customer base that wants to be able to troubleshoot and resolve technical issues quickly. Without the ability to self-troubleshoot home network issues, customers are forced to call customer care services, resulting in high OPEX. In order to reduce these costs and improve customer satisfaction, Incognito Software Systems Inc. has introduced a series of applications powered by self-care widgets: reusable and customizable web applications that can be easily integrated across previously existing self-care portals within a matter of weeks, instead of waiting on months of testing and brand customization. Widgets allows service providers to promote a consistent user experience, with home users given easy access to technical self-care tools.
As alternative connectivity options and over-the-top (OTT) players become more prevalent, the traditional revenue streams of service providers are being squeezed tighter and tighter. One of the ways service providers are working to counter this is to foster customer loyalty by delivering the best possible customer experience using digital channels. In fact, research increasingly shows that providing customer service through digital channels improves customer satisfaction thus increasing Net Promoter Score (NPS) and in turn the average revenue per user (ARPU) in the long term.
That said, the pressure is on for CSPs to add more functions to existing 'My Account' portals to make the customer care experience more holistic. However, the development time to make these changes can be lengthy and most service providers lack the tools to do this quickly. That's where the power of widgets come into play.
Widgets are modular web-code snippets that can be easily introduced to existing 'My Account' portals and mobile applications instead of building separate portals or mobile applications. Incognito's new self-care widgets extend Incognito's Digital Home Experience Solution, by leveraging Incognito's TR-069 Auto Configuration Server to provide another approach to empowering home network users with more control over the in-home Wi-Fi network.
Widgets can easily extend new self-care functions across multiple digital channels, including field engineer mobile applications that can now access home network scans before or after service calls, ensuring service quality. For home network users, widgets provide flexible self-care tools to resolve technical issues and manage settings.
Able to be introduced into an already existing portal, these self-care widgets offer distinct functions, able to perform speed tests, adjust Wi-Fi settings and passwords, and detect and regulate connectivity issues. Key capabilities include:
Managing Wi-Fi settings, such as passwords and network name
Performing Wi-Fi diagnostic check
Managing connected devices in the home network
Running single-click broadband and Wi-Fi speed tests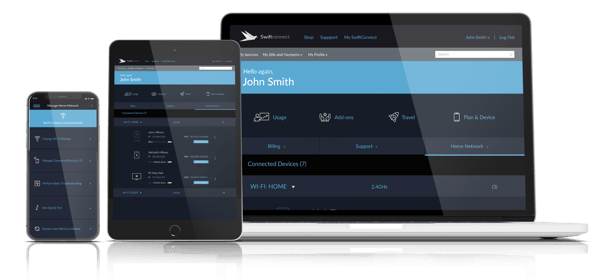 Easy to navigate, Incognito widgets are customizable to align with any brand, while also able to include multi-language support, all while responsively fitting to any screen – phone, computer, tablet, or otherwise. The rapid integration of widgets reduces the development time of internal software from months to weeks, while also comfortably integrating with existing BSS systems.
Incognito widgets offer a single digital home network solution that gives customers the ability to build and maintain a trusting relationship with their service providers, while giving providers the opportunity to increase NPS while reducing OPEX. With widgets, Incognito is pushing forward a customizable digital journey that benefits network users and digital service providers alike. A consistent user experience across portals and mobile devices, thanks to the industry-first collection of self-care and diagnostic applications.
For more information on Incognito's Digital Home Experience Solution and widget self-care applications, visit www.incognito.com/solutions/self-care-widgets. To schedule a demo of the new self-care widgets, please contact Incognito.