The global pandemic has highlighted the vital importance of broadband networks and their role in accelerating digital transformation. The advent of transformational technologies such as 5G will unleash a vast array of groundbreaking digital services that will enable consumers and industries in new ways. As service providers build out their 5G networks and 5G-enabled devices become available, connectivity with higher speeds, superior reliability, and extended capacity becomes possible.
In the United States, the 3.5 GHz band, commonly known as Citizens Broadband Radio Service (CBRS), has a special role to play in the world of 5G innovation. In mid-2020, the Federal Communications Commission (FCC) made the CBRS band available for commercial use, allowing operators to extend coverage and capacity of their networks. OnGo Alliance (previously CBRS Alliance) believes that the availability of this additional spectrum will allow service providers to easily set up their own wireless networks when it would otherwise cost them millions to develop. What's more, upon completing the 5G specifications for the 3.5 GHz band, OnGo Alliance has made huge steps in giving service providers expanded opportunities with 5G technologies.
Why it matters, and who benefits?
Besides providing a roadmap to 5G, the use of the CBRS spectrum offers the ability to augment over-taxed cellular networks, as well as deliver higher data speeds, seamless coverage, and higher capacity to subscribers. Without a doubt, the spectrum will have a variety of benefits to all telco operators.
Mobile network operators (MNO): The need for a digital world and ubiquitous connectivity has created a thirst for more spectrum. With the mid-band spectrum availability, MNOs can finally boost their network's performance by enhancing small cell deployments and augmenting their capacity by using the CBRS spectrum. One other benefit is the in-building coverage improvements and the boosting of signal communications.
Cable service providers: Cable service providers are continuously looking for ways to enter the wireless market and generate new revenue opportunities. With CBRS, cable operators have a chance to deploy stand-alone mobile networks. Service providers like Cox, Charter, and Altice have been significant winners in the spectrum auction (Auction 105) for CBRS thus far.
Enterprises: Enterprises could use the spectrum to connect their devices and enable critical communications in manufacturing, logistics, transportation, healthcare, etc. CBRS spectrum can be used to boost LTE speed which can help enterprises in setting up private networks. It is also complementary to Wi-Fi.
Fixed Wireless Access (FWA) providers: Service providers no longer must choose between fixed broadband and mobile capacity. CBRS has the option to offer service effectively to rural and suburban markets without reusing mobile capacity. FWA will prove to be an essential use case for 5G and CBRS. 
Challenges in a CBRS Trial and how to overcome them?
Service quality, device attributes, and scalability are cornerstones for a successful CBRS deployment. CBRS requires sufficient coverage and bandwidth availability. Devices play a massive role in ensuring service quality remains uncompromised when transitioning between CBRS and Wi-Fi. As many service providers start to consider CBRS a viable option, they need to overcome five key challenges:
Challenges
Solution

LTE devices need to be tested and need to be interoperable.

Chances are that service providers will need to work with multiple vendors and different devices to support CBRS. Untested devices may end up costing much more.

Deploy a multi-vendor device management solution.

Service providers need to ensure they utilize a solution that can handle working with many devices. A locked-in solution with one vendor using customizations is more of an impediment to the CBRS trial.

There is varying quality of LTE devices out there.

Any new technology comes with its fair share of troubles. Most of the new LTE devices have the same range of acceptable values, which may affect connectivity and customer experience.

Ask for a standards-based, carrier-grade solution.

A standards-based solution monitors all the devices on the network for various parameters that have an impact on QoE, irrespective of device vendors in the network.

Mass device automation and updates hamper speed and scale.

With millions of devices deployed in different locations, managing and automating them becomes time-consuming and challenging.

Simplified deployment and management solution with zero-touch provisioning and onboarding.

Save hours of device onboarding, management, and monitoring by using a single field-tested solution for multi-vendor management.

Gateway connection

Access points aren't the only devices in play in the long term – consider additional use cases like CBRS gateways connected to both a cable modem and set-top-box.

Network visibility beyond the gateway

Utilize a holistic device management solution that centralizes control of access parameters, device, and in-home digital experience beyond the gateway.

Adherence to regulations

SINR (signal-to-interference-plus-noise ratio) is a key metric for LTE systems. The SINR will have a direct correlation to the performance of the wireless system. It is critical for WISPs (wireless internet service providers) to monitor these to ensure adherence to the rules and regulations for CBRS.

Stable connection

A solution that can measure and monitor these metrics will help WISPS in identifying any incidents and make the necessary services changes for their clients.
What do you need?
A comprehensive device management approach and vendor extension support
Automated, in-built device discovery: When starting a CBRS trial, one does not want any surprises. Service providers can avoid on-demand fetching, which is hard to track down and affects performance. The solution must offer an automated built-in device discovery to learn about supported parameters, resource issues, and compliance.
Holistic control, health, and monitoring: An operator is as good as the network information that is visible and manageable. With proper monitoring, filtering, and visualization of the massive device and network data sets, service providers can have more efficient CBRS deployments, deeper network insights, and enhanced customer experiences.
Know what is happening – Operations Dashboard: Service providers must have holistic visibility of network operations with advanced data diagnostics from devices and networks. All the CBRS compatible devices need to be controlled and monitored to understand traffic, events, and resource utilization by monitoring their status in near real-time. This will greatly reduce the costs associated with sending truck rolls.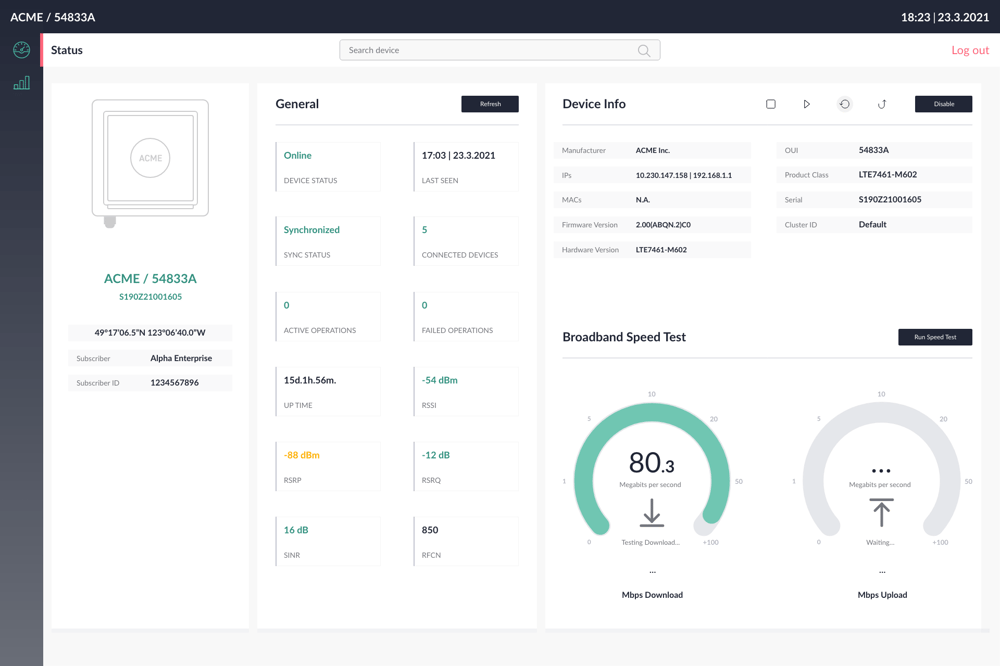 Provide proactive care – KPI Analytics: Service providers need a current view of critical insights to improve proactive care, remote diagnostics, and service optimization. The right solution must be able to collect and analyze aggregated device parameters in near real-time and normalize them for comprehensive decision making, including generation of any alarms for network operations.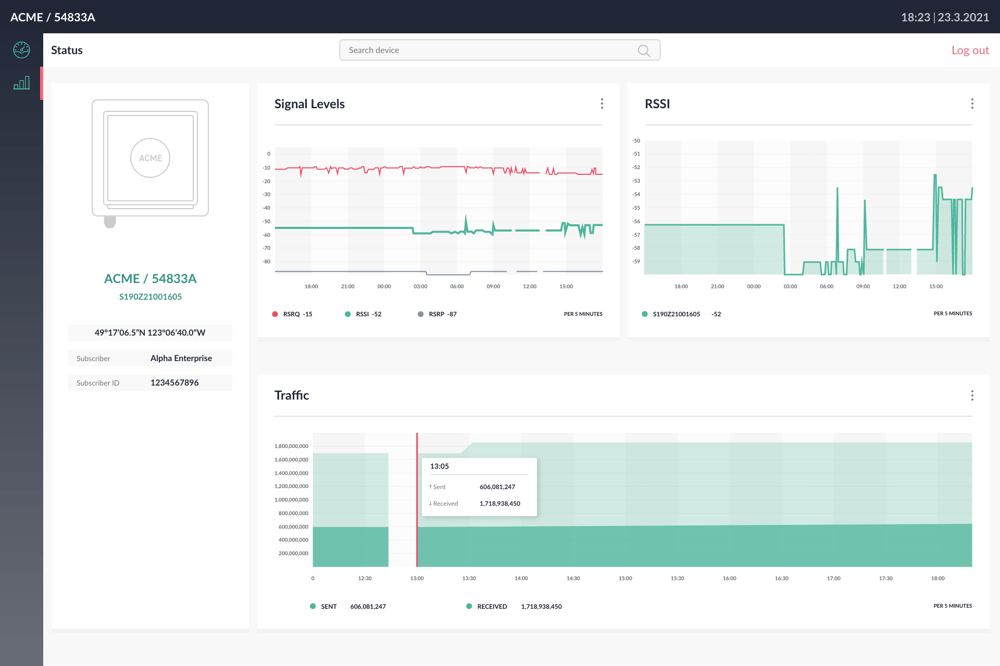 Take action – CSR Dashboard: Service providers must enable their customer support teams to have full visibility into the CBRS device parameters to identify issues, troubleshoot, and automate tasks to improve first-time call resolution, decrease call-handling time, and reduce technical escalations.
Enhanced service quality: CBRS oriented devices may have varying speeds. Devices will also need to be validated across multiple vendors. A solution that provides speed and latency testing can help service providers monitor customer experience and ensure SLA adherence.
Device communication: Device communication is key to maintaining proper signal quality. Devices receive signals from cell sites and LTE parameters like RSRP, RSRQ, etc., to reveal network and connection performance. Geolocation maps can point out where CPEs are located, allowing operators to identify which cell site they are connected to and analyze the quality of parameters in order to take action.
Plan for the future: As the CBRS trial is underway, service providers must plan for the future. The right solution can enable service providers to easily scale horizontally to support massive device volumes, innovate with IoT device integration, and support upcoming modern architectures like User Services Platform (USP) leveraging TR-369.
A solution that can roll out IoT services with CBRS: A report by SNS Telecom and IT anticipates that initial rollouts of 5G NR (new radio) network equipment in the CBRS band will start to take shape in 2021. This will spur on new enterprise IoT projects, specifically around self-driving vehicles and production machinery, which thrive on throughput, latency, reliability, and availability. A solution that enables service providers to manage and monitor the full lifecycle of millions of IoT devices, gateways, and sensors across their network to power additional revenue-generating IoT use cases will clearly add to their competitive advantage.
When it comes to taking on a new deployment, consultations with the right device management software vendor can make a world of difference. The proven carrier-grade solution will equip you with the robustness, flexibility to respond, and predictable performance required to take the next step with a CBRS deployment.
Download Incognito's CBRS Technology Guide to learn what you need to consider for your CBRS project