These trends come as great news to many cable operators who are constantly searching for ways to give new life to stagnant revenue models. But increasing revenue from WiFi is not as simple as just plugging in customer premises equipment (CPE).
As is typical in the cable industry, subscriber quality of experience (QoE) remains the most crucial part of generating income. The quality and support of WiFi is seen as a direct extension of the cable operator's brand in the marketplace. Compounded by the embedding of WiFi within the cable DOCSIS gateway, operators are often seen as the go-to for all matters of support, from connectivity to quality across an incredibly diverse base of unmanaged consumer devices.
Innovation in WiFi technologies is set to help optimize WiFi connections and support subscriber QoE. The opening of 'white space' TV spectrum through standard 802.11af and the soon to be ratified 802.11ah both provide new sub-1GHz frequency options to the market as the use of dual band concurrent home gateways begins to mature. A number of conversations around adding control to the subscriber WiFi network sparked interest in extending self-organizing network (SON) and radio resource management (RRM) techniques to residential consumer WiFi. We now see 802.11k with 802.11r RRM and Fast Transition capabilities being exposed in some DOCSIS WiFi access points.
Additionally, assurance platforms leveraging existing TR-069 standards can be used to enable better customer service with automatic device activation, remote management, and intuitive dashboards for customer service representatives and subscribers alike.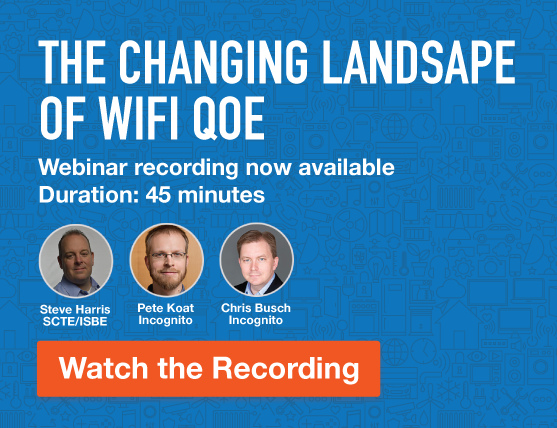 Learning how to implement these new technologies and manage the subscriber QoE is paramount to optimizing your WiFi network and continuing to generate new income. Tune in to the upcoming webinar, The Changing Landscape of WiFi QoE, to hear a 45-minute discussion with Steve Harris, Senior Director of Advanced Technologies & Instruction at SCTE, on a variety of topics surrounding WiFi QoE.
You'll gain insight on topics like:
Gaining rich data from within the customer premises network using TR-069
Building key-performance indicators to identify poor WiFi service quality or subscribers at risk
How to leverage new technologies to optimize a subscriber's WiFi network and proactively avoid service quality issues
Best practices for immediate diagnosis and resolution of WiFi network problems
Approaching sales across networks of managed WiFi access points, including multi-dwelling units and community WiFi hotspots