Read the full agenda online to plan your visit to Mobile World Congress 2017. The conference includes the following keynote presentations over three days:
Day 1: February 27
Mobile, The Next Element
The Digital Economy
Connected Vehicles
Reed Hastings, CEO and Founder, Netflix
Day 2: February 28
Achieving Sustainable Development Goals Through Mobile
Building the 5G Economy
The Content Gold Rush
Day 3: March 1
The Fourth Industrial Revolution
Connecting the Main Event
Conversational Commerce
Day 4: March 2
• Start Up Innovation
Other topics likely to draw a crowd include 5G, AR/VR Hardware, IoT, Network Edge Disruption, AI, Mobile VR, and NFV.
Networking Events
Mobile World Congress offers opportunities for networking with industry leaders. Learn more about official networking events and special promotions on the Mobile World Congress 2017 website.
Don't forget, you can meet with Incognito experts at Hall 7, Booth #H41.
What's New to MWC17?
Hall 8.0 NEXtech is the future
Focused on next generation technology, Hall 8 is dedicated to innovative companies currently disrupting the mobile ecosystem. The hall will feature different pavilions dedicated to specific technologies and platforms such as VR/AR, robotics, drones, and artificial intelligence spaces.
Women4Tech
Comprising of a variety of programs and activities over the four days of Mobile World Congress, Women4Tech provides a global platform to focus specifically on increasing the inclusion of women in the mobile industry and showcasing best practices for female leadership.
Meet & Eat
Take a culinary adventure through Meet & Eat, an initiative in partnership with L'Hospitalet City Council. Back for a second year, this networking opportunity was created for the foodie-oriented attendee. Enjoy a taste of the culinary delights that Catalonia has to offer while maximizing your networking experience.
YoMo: The Youth Mobile Festival
Over four days, YoMo Barcelona will welcome up to 20,000 10–16 year old schoolchildren from across Catalonia and Spain to one huge showcase of science and technology.
Where and When is MWC 2017?
Mobile World Congress 2017 will take place Monday, 27 February through Thursday, 2 March, 2017, in Barcelona, Spain at Fira Gran Via conference facility. Additional activities will take place at Fira Montjuïc, located 2 kms away.
Attendees are encouraged to arrive over the weekend before the event begins in order to claim their badge and maximize time at the event on Monday.
How to Get There
Many hotels are conveniently accessed by the Barcelona Metro and FGC trains. You can purchase a multi-day transit pass ahead of time here. Official hotel shuttle buses are provided free-of-charge for attendees who have booked hotels through the event's official accommodation provider network and where public transport is not available.
Where to Eat at the Conference
Hungry? Mobile World Congress offers an onsite pre-booking restaurant service, with a wide variety of cuisines available. See below for further information.
Nuclo Restaurant
International cuisine
Locations: South Entrance (Outlet 1)
Description: A new concept in gastronomy uniting tradition and innovation, and boasting fresh ingredients as the key element. Click here for more information.
Gastro7 by ARTS Restaurant
Mediterranean cuisine
Location: Hall 7 (Outlet 29)
Description: New concept tapas served in a wide space with 100 people capacity. Click here for more information.
Casa de Tapas – La Cañota Restaurant
Spanish cuisine
Location: Hall 2 (Outlet 8)
Description: Spanish cuisine with some of the best tapas in the city, with creative and innovative menu. Click here for more information.
La Piazzeta Restaurant
Italian cuisine
Locations: Hall 2 (Outlet 6) and Hall 8 Level 1(Outlet 39)
Description: Traditional Italian cuisine, including many varieties of handmade pizzas and pastas, as well as fresh salads. Click here for more information.
Ugarit Restaurant
Syrian cuisine
Location: Hall 8.1 (Outlet 40)
Description: Discover the quality and variety of Syrian dishes that use only the best ingredients on the market. Click here for more information, photos and contact details.
Nearby Restaurants, Cafes, and Bars
If you feel like a break from the convention center or want to try out a local business, you're in luck — the venue is essentially surrounded by restaurants, mostly north and east of the venue.
Palmer
Renaissance Barcelona Fira Hotel, Plaza Europa 50-52, L'Hospitalet de Llobregat, 08902
On the 14th floor of the nearby Renaissance Hotel, Palmer offers Mediterranean cuisine in the heart of a "vertical garden" surrounded by palm trees and greenery.
This & That Co
Calle Amadeu Torner 41 Barcelona, 08902 L'Hospitalet de Llobregat
A ten-minute walk from the north entrance of the conference, this modern open-air restaurant offers tapas and regional dishes, a wide selection of drinks, and excellent service.
Granja Elena
Paseo Zona Franca 228, Barcelona 08038
Traditional Catalan dishes are the specialty of this small local bar popular with locals. Located near the north entrance.
Casa Varela
Carrer Blas Fernandez Lirola 82, 08908 L'Hospitalet
A traditional, family-run restaurant offering a mix of local specialiaties and European dishes. Located near the south entrance.
Top 5 Things to Do in Barcelona
Visit Barcelona Tickets, Turisme de Barcelona's official shop, for special discounts on attractions or purchase the Barcelona Card if you plan on visiting multiple locations such as La Sagrada Familia, La Pedrera, Casa Batllo, Barcelona Zoo, Museu Nacional d'Art de Catalunya and more.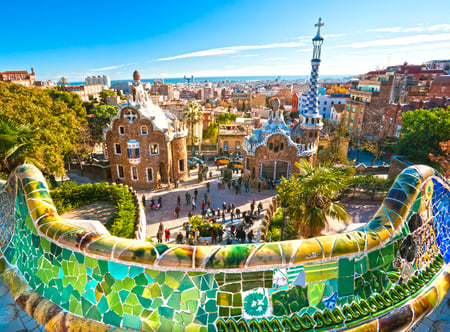 Park Guell in Barcelonia, Spain.
Park Guell
Antoni Gaudi's masterpiece garden village is today a UNESCO World Heritage site and open to the public. Widely considered to be one of Gaudi's most famous artistic and otherworldly landmarks, it's worth spending an afternoon strolling around the complex and taking in the views over the city.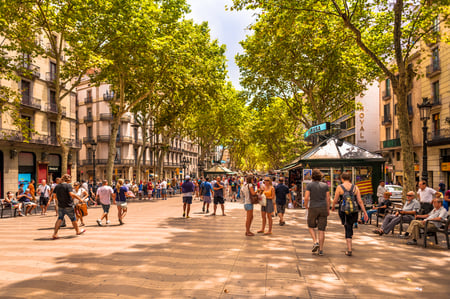 Barcelona La Rambla
La Rambla
Take in the sights and sounds of one of Europe's most famous avenues. Stretching for 1.2 kilometers (¾ mile), La Rambla is the heart of the el Raval neighborhood and home to the Liceu Theater, the Centre d'Art Santa Monica, and many street performers and buskers. La Rambla is also a short walk from other well-known sites such as Gaudi's dragon-roofed Casa Batllo and the historic Barri Gotic (Gothic Quarter).
The Picasso Museum
Although born in Malaga, Spanish painter and sculptor Pablo Picasso spent several years in Barcelona and first exhibited his work in the city. This museum is a tribute to his work, with a focus on early sketches and lesser-known work.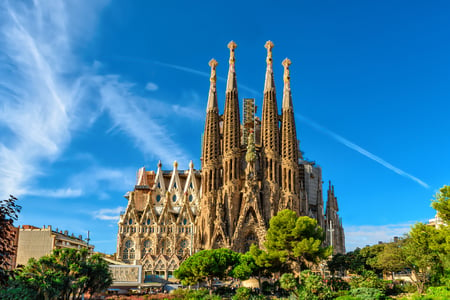 Cathedral of La Sagrada Familia
La Sagrada Familia
No trip to Barcelona is complete without taking in the Gaudi's most famous work-in-progress, the imposing Sagrada Familia church. While it is completely free to view from the outside, tours are available to see inside.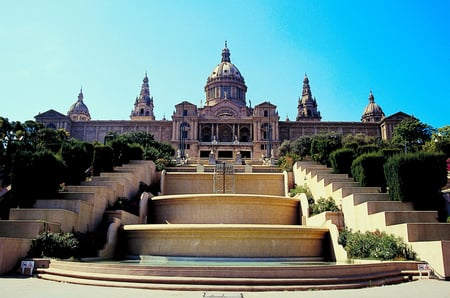 Museu Nacional d'Art de Catalunya
Museu Nacional d'Art de Catalunya
There's more to Barcelona than imaginative architecture and food! Visit the impressive MNAC to view a vast collection of mostly Catalan art in the imposing Palau Nacional building.
4 Things to Eat While in Barcelona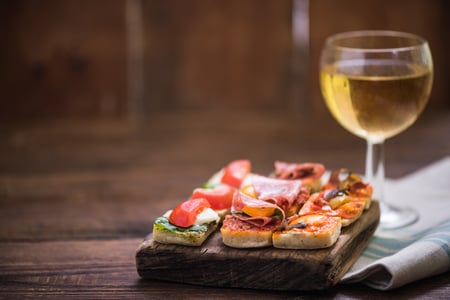 Tapas
It's difficult to avoid tapas in Barcelona! For a simple but delicious Catalan speciality, start with Pa Amb Tomaquet (Pan Con Tomate), which is bread rubbed with fresh tomatoes and drizzled with oil and salt. You may also want to pair it with butifarra (an uncured spiced sausage) or anchovies, which are both Catalan staples.
Fideua
Similar to a seafood paella (a traditional Valencian rice dish), the Catalan version is served with short noodles rather than rice.
Escudella
A hearty Catalan stew with a long list of ingredients, usually including meats, sausages, bones, varied vegetables, and snail-shaped pasta ("galets").
Crema Catalana
This classic Catalan dessert is similar to crème brûlée but it is often flavored with lemon and cinnamon and the sugar on top is caramelized under a grill instead of with a flame.
With all that Barcelona has to offer, this year's Mobile World Congress is sure to deliver in more ways than one. Remember to stop by the Incognito Booth #H41 in Hall 7, to learn about lowering OPEX and streamlining wireless device management!
¡Hasta pronto! (See you soon!)