That's already a handful of manual processes, but imagine doing that over and over for hundreds to thousands of devices, many from different vendors, each with its own unique device update path! Clearly, this complex challenge needs a solution.
Future-thinking network operators are starting to employ automated firmware management solutions that significantly ease the firmware update process to not only save money but also to decrease the work required by the Network Administration team. This frees up internal resources so that more time can be spent on other vital administrative tasks.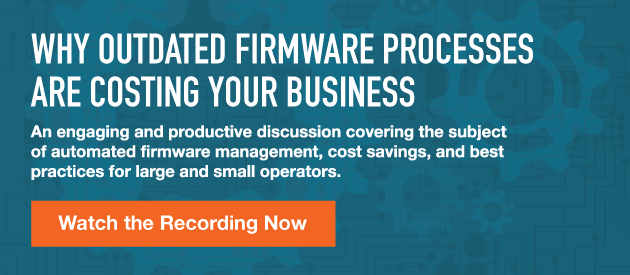 Operators of any size experience more streamlined operations after deploying these solutions, but selecting the best one for your organization can be a challenge. How can you tell which firmware management solution is the best fit? Look for solutions that go beyond simple update automation to resolve each of the challenges identified above. The best firmware management solution will perform the following actions without manual intervention:
Identifying and organizing device firmware versions in a sortable library for easy lookup
Accepting firmware update "recipes" that define update actions for every device on the network
Administering firmware updates outside of regular usage hours to avoid accidental subscriber service interruption
Performing single or mass-device firmware updates without any oversight
Completing routine validation checks on device firmware versions to verify update success
Correcting any errors that occur during the firmware update process and then reinitiating the firmware update
Performing on-boot updates so that firmware versions are updated to the correct configuration as soon as a device enters the network
Obtaining a glance of how up to date the devices on the network are so that you are confident about the firmwares that are currently active on the network
Selecting a solution that can automate each of these steps will help any cable company save costs, free up resources, and reduce the impact on the Network Administration team. Learn more about gaining zero-impact firmware updates with automated processes in the Incognito fact sheet. Or, get in touch with one of our firmware solution experts by contacting us today.